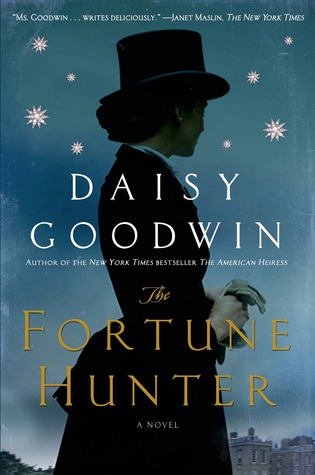 Book Review -
The Fortune Hunter
by Daisy Goodwin
The Fortune Hunter by Daisy Goodwin
Synopsis
: "In 1875, Sisi, the Empress of Austria is the woman that every man desires and every woman envies.
Beautiful, athletic and intelligent, Sisi has everything - except happiness. Bored with the stultifying etiquette of the Hapsburg Court and her dutiful but unexciting husband, Franz Joseph
s."
My Review: At the start of the book we are introduced to Charlotte, a young lady who will shortly become financial independent when she reaches age and inherits her mothers estate. We also meet Captain Bay Middleton, a young and handsome accomplished horseman with a dream of winning the Grand National.
Charlotte has no plans to marry a Lord or an Earl like most young ladies her age. She is more interested in the new invention of photography and the opportunity of exhibiting her photographs, much to her aunt and her soon to be sister in law's annoyance. That is until she meets Captain Middleton, both drawn to each other, yet they are unable to act on there wish to marry until Charlotte reaches age. But with neither money or a title the dashing army captain in reality has little to offer young Charlotte,
But then Captain Middleton one of the best horsemen in the country is asked to ride alongside the beautiful Sissi. Introduce her to the ways of an English Hunt,which she demonstrates great skill as a horse rider, Sissi clearly finds Captain Middleton's lack of etiquette rather enticing.
The story then follows how these two women battle for the affection of the dashing Bay Middleton. As a reader this story had me alternating as to whether the character Bay deserved their affections, to sympathising for him and the situation he found himself in. For Bay to be even moving in Royal circles presented him with opportunities he would scarcely have imagined. By the end of the book I even empathised with the constraints faced by Sissi. It is easy to take for granted all the opportunities available to young ladies today, yet Charlotte faces caution and disapproval just for being in a room alone with an eligible man. Never mind her plan to travel and explore America being accepted by her half brother and aunt.
I enjoyed this book it was well written and clearly well researched, I found it an easy read just under 500 pages, it took me about a week to read on and off during the evenings. If this book were a film (who knows maybe one day it will) it would be a Sunday afternoon film, perfect to settle down and enjoy along with your favourite tipple and box of chocolates.
I gave this book 4 stars out of 5 on Goodreads where it currently has an average of 3.41 stars.
To find out more about the book or the author visit the following links.
Goodreads
~
Amazon
Angela
Post may contain affiliate links.